You probably don't need the likes of us to explain that manufacturing is a complex undertaking. Whether producing aluminum boats or gumboots or water tanks, there's – sometimes literally – a ton of materials, processes, people, and logistics involved. And if all those variables aren't carefully managed, getting your products to market efficiently and cost-effectively is imperiled. That's why the accounting system you've depended upon from the startup days just isn't going to cut it any longer. It's also why we're seeing more manufacturers chuck the accounting package and the spreadsheets for something a little more capable, like NetSuite.
Now, accounting packages like Xero (or MYOB or Reckon or Freshbooks) are very good at what they do. That's what makes them so successful around the world, and an essential component in the apparatus of every small business. After Excel which is a practically universal first tool for running a fledgling operation, an accounting package is where most organisations start their journey towards more capable systems.
But as the business grows, accounting software quickly shows its limitations. While it does a solid job of handling the basics like the general ledger and perhaps Accounts Payable and Accounts Receivable, there's a lot more to it. Your organisation might need a better way to keep track of any combination of stock management, Bill of Materials, job costing, logistics, customer relationship management, time and attendance, planning, purchasing, inventory, sales, marketing, human resources and more.
As this becomes clear, the next steps for many organisations revolve around retaining the accounting software but bolting on all kinds of third party add ons, often as tactical stop-gaps, or getting someone in and developing a few bits of custom software.
Even though this can (and often does) work 'quite well' for a while, the march of technology means obsolescence soon creeps in. Things get clunky, especially when the person who did the custom software leaves or retires. Every time an upgrade comes from the commercial software (including the accounts package) stress levels rise.
And then there are the canaries in the coal mine: so-called 'swivel chair integration' (where you copy data from one source, then swing around on your chair only to input it in another) and the introduction of endless spreadsheets plugging gaps in the processes.
If these two birdies are cheeping loudly in your environment, if accurate and fast information access is a problem, if people are spending time looking for facts and figures…and not trusting the results of the search…then you've outgrown your accounting package.
Good Enterprise Resource Planning software provides a complete, end-to-end solution capable of managing every aspect of your business in a single system. These days, especially in New Zealand where we have quite remarkable internet access, the preferred ERP is cloud, offering advantages of low cost, rapid implementation, eased upgrades, and anywhere-access.
At Verde Group we've been implementing NetSuite for a number of Kiwi businesses, many of which have moved on from the mishmash of systems that spring up around the growing enterprise, and which are anchored to the accounting package. What they get is a true 'chalk and cheese' result; in fact, this short whitepaper 'Why Manufacturers Are Switching to NetSuite' contains a poll asking manufacturers why they moved to the comprehensive, integrated, online NetSuite system – and highlights the benefits they received.
Chief among the reasons for moving are:
80% of surveyed organisations switched to NetSuite because they needed better reporting and tracking.

66% had challenges with an inability to handle complex accounting needs using basic accounting solutions.
And the result?
93% of organisations increased visibility and control over the business since making the switch to NetSuite.
That's not all. As a modern, integrated solution, NetSuite delivers 'business as usual' advantages including automation and artificial intelligence capabilities which relieve finance and operations people from tedious tasks. Inventory visibility and production planning mean better demand forecasting. And with supply chain challenges emerging as a new normal, it automates calculations of reorder points and stocking levels down to the SKU level.
Oh, and one more thing. Financial close is always an exciting time for everyone, but generally not in a good way. NetSuite turns that on its head, reducing time to close with real-time reporting, rapid reconciliations, and accurate inventory.
I'd encourage you to read about why more manufacturers are moving away from their spreadsheets and embracing more powerful, more capable software. It's a ten-minute read which boils down to 'It's worth it."
Do get in touch with any questions, queries, or comments. We'd love to demonstrate how NetSuite can meet your manufacturing requirements.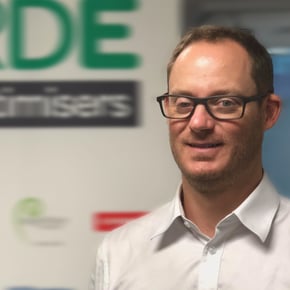 Wayne Potgieter
Wayne is an action-oriented Sales Manager with a proven track record of managing new business development to drive growth and ensuring that Verde customers are looked after. Prior to joining Verde, Wayne worked within strategic business development and customer management roles at several international companies.