In our quest to put you, our customer, at the centre of all we do, Verde is embracing the concept of 'customer intimacy '. A good deal of that starts and rests with our company culture – but company culture isn't necessarily what you'll be engaging with, directly, as we go about meeting your business solutions needs. Ever shaken culture's hand? No, we didn't think so.
But the hand which you probably have shaken, and more than once, is the one which belongs to your Account Manager.
Our Account Managers represent the front line of our engagement with you. Yes, each and every one of us plays a pretty important role, but it is the Account Manager with whom you engage on a constant basis. Your Account Manager works with you to understand your requirements, issues, challenges, disappointments, successes and more (and yes, after going through those personal issues, they'll get to the software-related stuff, too 😊 ).
To give you a better idea of what it means to be a Verde Account Manager, let's first start with some background.
The main purpose of the Account Manager role is to develop and manage customer accounts by helping to identify problems, develop solutions, accomplish customer goals, and achieve a high level of customer satisfaction. In so doing, we provide something of a 'go-between' as the direct link with you on the one hand, and the project managers and developers on the other.
As you are probably beginning to gather, people skills are crucial for a successful Account Manager. People are also the 'conduit' through which company cultural ideals are put into practice. Easy to say 'culture', harder to make it something tangible. While culture must pervade the company, the point at which you'll experience it most is through your Account Manager.
Our Account Manager team is comprised of trusted advisors who offer a comprehensive understanding of accounting, business software, project management and software development. Our advisors include CFOs, Financial Controllers, Warehouse Managers, Logistics Experts and Business Analysts.
From this team (and we are really proud of this team, because the extent of acumen that we can bring to bear is hefty), you are allocated a dedicated Account Manager predominantly on the basis of the applicability of their experience and knowledge to your organisation and industry.
Your Account Manager provides value through that knowledge and through their ongoing engagements with you, either for scheduled formal account reviews or for informal catch-ups to discuss your organisational needs and developments.
Your Account Manager doesn't just know your business and industry, they also spend a good deal of time understanding the capabilities, developments and advancements in the enterprise software space. This equips your Account Manager to provide insights and ideas to make things better/faster/more efficient. It's how they anticipate your needs to be proactive in providing solutions which can add value in your business.
Verde Account Managers also have the full resources of the rest of our company at their disposal, including those clever developers. When you require additional services, solutions or simply advice, they draw on the appropriate skills and knowledge to alert you to what can be done – and how to do it, too.
A perfect example of that can be seen in the system we delivered for Dyne's Transport. Faced with a clunky lot of paperwork relating to the servicing of trucks, Craig Anderson, one of our Account Managers, suggested the introduction of an electronic solution, eDocs. Dyne's IT manager Peter Chamberlain explains: "We like dealing with Verde. They know what they're talking about and are always available. In the case of the invoicing app, we presented them with a problem and they came up with a perfect solution."
Craig's work is testament to the personal nature of the engagement with you. By being close to the business, he can identify problems or even opportunities for improvement which might not be obvious to those in the business itself. That can and does lead to the introduction of technology which can deliver big boosts in performance.
Finally, even businesses which are in the same vertical market are different. That's because your business, like ours, is built upon the people who work there. Our Account Managers know that while every customer has different expectations and requirements, the common principles are to treat everyone with kindness, respect and – given the hard fact that enterprise software environments are complex and routinely downright perplexing – that patience and persistence is essential in getting it done right.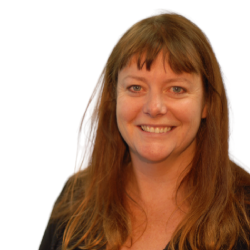 Penny Boland
As Chief Executive Officer, Penny champions the overall Verde customer experience. Working with our dedicated consulting and technical teams to ensure projects are delivered optimally – on time, in budget and above customer expectations. She is passionate about great customer service, providing value for money and the Verde guiding principle customers for life. With over 25 years experience in a range of senior IT positions, Penny's focus is to provide the right solution for each customer's business, working with them to ensure their solution remains optimised now and into the future.